25 YEARS IN BUSINESS :: Loss of James W. Gordy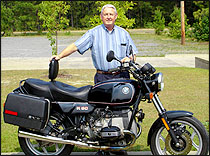 Gordy Tool is celebrating our 25th year in business and mourning the loss of James W. Gordy. He started this business in 1984 in a cinder block building he built in the back yard. He loved his work and the relationships he developed with customers, vendors, and employees. He took a lot of pride in completing jobs others said couldn't be done and positively influenced many co-workers and employees over the years. We miss him greatly but we intend to carry on the quality work done at Gordy Tool and look forward to developing new relationships.
A NEW LEVEL OF COOL :: LumaLink lighting bracket for more bikes.
With the tremendous response received from the introduction of the LumaLink light bracket for BMW motorcycles, it was only natural to let other bike enthusiasts join the party. LumaLink has now expanded their custom line to include fits for other models and in different colors. Now you can get the same great lighting accessory for Ducati, Harley-Davidson, Moto Guzzi and many other bikes.
As a biker rider, you are not satisfied with your bike being just like everyone elses. You want to add your personality to your ride. Our standard LumaLink profile is customized at the time of your order with the bore size that fits your bike, up or down orientation, your choice of color and several in-stock lighting options. Make a statement with LumaLink and stay ahead of the curve!
THE SWITCH IS ON :: Lumalink introduces the Switch Mount.
The Lumalink Switch Mount can be effortlessly mounted on either handlebar which has a receiver not used for mirrors. The receiver is in a natural position to operate with your thumb while your hand is still on the grip.
Two versions of the Lumalink Switch Mount are available; a single switch versioin (pictured) and a double switch version. Learn more about the new Lumalink Switch Mount.
FINDING YOUR WAY :: Custom GPS bracket now available.
The Lumalink GPS Bracket provides comfortable placement for your GPS. Its design makes the bracket a natural looking fit between your handlebars. We can custom manufacture a Lumalink GPS Bracket for bikes with different bolt patterns and one-of-a-kind units are no problem. Find out more about the GPS Bracket ...